Greater Clark County Schools
Jeffersonville, Indiana
In 2005, a facility master plan was completed for Jeffersonville High School of Greater Clark County Schools recommending additional classrooms, renovation/replacement of the existing 1971 facility systems. Project goals included: modifications to the 35 year-old building to adapt to current and future educational needs; safety and security improvements; energy conservation upgrades and engineering systems modifications for occupant comfort; upgrades to meet building codes and A.D.A. compliance; and replacement of facility components at the end of their useful life.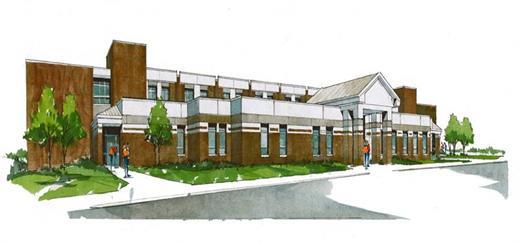 Additional classrooms are being created by renovating three existing LGI spaces while the guidance department is being relocated into the expanded administration area at an identifiable 'front door.' Educational space renovation includes new paint, finishes, and technology. Science lab utilities are being replaced along with casework and countertops. Art, music, family/consumer sciences, industrial technology and the auditorium spaces are renovated as well.
The Media Center is being renovated/reorganized to better support today's curriculum and technology needs. The cafeteria is enlarged and the serving/kitchen areas renovated to better serve students, staff and guests while meeting current health codes.
The exterior of the building will receive new windows, repairs to masonry walls, re-roofing and a new front entrance giving the façade a 21st century appearance.
Phased construction will occur while the building is occupied over a three year period. Verkler will work to insure a safe, secure, quiet learning environment during this $37 million dollar project.