Indianapolis Public Schools
Indianapolis, Indiana
This facility, built in the mid-1950's, was no longer meeting the needs of students, staff and programs; therefore re-programming of the spaces and expanding the cafeteria was a necessity. The infrastructure systems of the building were worn out after 50 years of use so a total renovation was required. The addition of air conditioning, more cafeteria space, life safety systems and handicap accessibility issues were also addressed. The scheduling of 2,200 students who attended during the day and into the evening, produced a school that runs from 7 a.m. until 10 p.m. The challenge for Verkler became the renovation of 340,000 S.F. while adding 5,300 S.F. to the project.
The building was organized into five phases of construction in order to minimize disruption to students and stuff during class while still allowing for a smooth flow of construction activity. Temporary classrooms were erected prior to any phased construction to allow for compression of the occupied building during each phase of construction. Many of the large spaces within the building were sub-divided with temporary partitions to create these additional classrooms.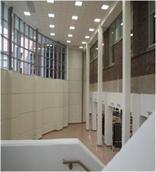 Phase 1 consisted of creating a bus drive to the north side of the building, renovation of classrooms (3 stories), new media center and a new administration area. Phase 2 focused on another group of classrooms (3 stories) and the cafeteria expansion. Phase 3 continued with the last set of classrooms to be renovated that were part of the 3-story building. This phase also included the installation of a new elevator. Phase 4 included the renovation of the new life skills area, music and performing art rooms, kitchen area, remaining cafeteria, HVAC work in the auditorium and also the installation of a new elevator. Phase 5 finishedup with the completion of the auditorium, wrestling and weight rooms, renovation of the gymnasium and locker rooms and the remaining site work. This project totaled a construction cost of $25,000,000 with a construction timeline of 30 months.